House - Quintin
(22800) - COTES D ARMOR
€ 745,000
Réf : 112990IPL22 - EXCLUSIVITY LEGGETT
278 m2 habitable
11 rooms
7 bedrooms
3 bathrooms
16 ha land
Virtual Tour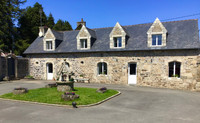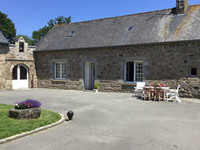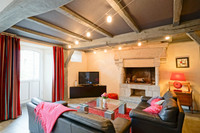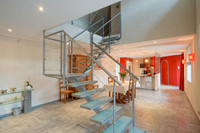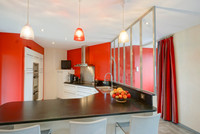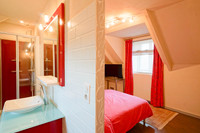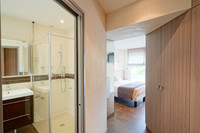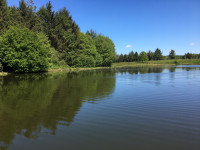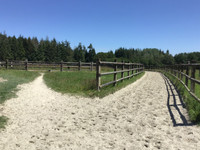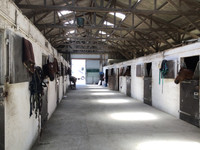 Superb 16-hectare estate with an 18th-century manor house, a professional riding school and a large lake.
Domain 16 hectares, renovated 18th-century mansion 278 m², equestrian centre, lake.

Saint-Brieuc (15 minutes), beaches Binic/Pléneuf-Val-André (30 minutes).

House 1 renovation 2011, modern interior.
Ground floor:
Open-space (80 m²) living/dining room, open kitchen, underfloor heating.
Suite (14 m²) with bathroom and dressing room, office (15.05 m²), wc.
First floor:
Suite (23.85 m²), 3 bedrooms (15.05/10.5/10.32 m²), bathroom, wc.

House 2 renovated :
Living room/kitchen (21.06 m²), bedroom (24.91 m²), bathroom, wc.
2 bedrooms (15,2/11,47 m²).

House 3 (25,84 m²).

Workshop/garage/2 boxes (24+16,72 m²), 2 stables (9 boxes/40 boxes), sanded track (1200 m), electric walker (6 places), hangar, silos.

Land with trees/grassland/lake (16 ha).
Aerothermal systems, double glazing.

Estimated annual energy costs for the home of between €1,430 and €1,960 per year. Average energy prices indexed to 1 January 2021 (including subscriptions).
Request for more information
Réf : 112990IPL22 - EXCLUSIVITY
Voir l'annonce en Français
Detailed description
Love of Nature and passion for horses in an exceptional setting and absolute calm.
15 minutes from Saint-Brieuc and 30 minutes from the superb beaches of Binic and Pléneuf-Val-André.


An impressive, authentic and magnificent Saint-Jacques de Compostelle bell is one of the most original and remarkable masterpieces in the heart of this superb 15-hectare estate.
Discreetly set in an elegant stone bell that unites the two main bodies of this 18th-century manor house, this emblematic idiophone, of high stature and bronze, perfectly symbolizes the regular and resounding beating of two temporal universes that tacitly echo each other, that of ancient times with its unequalled "cachet" and that of modern times with its unrivalled freshness and comfort.
In the same way, certain architectural details of this beautifully renovated manor house correspond to each other and give an aesthetic harmony.
In front of the main building, the gable of the bell tower, the well cap and the four trestle dormers on the facade are almost identical and create a visual balance that is most successful in the structural asymmetry of the whole. It is remarkable and unusual.
The well, which stands masterfully in the centre of the green square of a paved courtyard, is another centrepiece of the place. Built of skilfully cut stones, this work is splendid and unique. In particular, the imposing circular curbstone is superbly enhanced by two sturdy pulley supports supporting an angular cap, beautifully sculpted and moulded, itself surmounted on its ridge and on its two lateral supports, by three globes of stone of the most beautiful effect.
In these places, time seems suspended, like these two objects, bell and pulley, suspended in space, waiting for a movement, horizontal for one and vertical for the other.

In fact, this large and pretty property renovated in 2011 according to the rules of the Art and with quality materials, perfectly combines the tones of a petrified past in its most beautiful finery and the assets of a seductive present in full movement.

This ideal osmosis between two eras that complement each other perfectly is fully confirmed when you enter the premises.
The main building, used as a dwelling, in its ancient finery, conceals a heart of modernity and comfort.

The entrance leads directly to a spacious and bright open space, in a very modern, young and refined style. You will fall in love with it immediately.
This large 80 m² living room, with parquet flooring and underfloor heating by a heat pump, is composed of several areas dedicated to welcoming and conviviality and includes a living room, a dining room and an open kitchen.
The whole of this garden floor is lit by beautiful double-glazed windows and, with the decline of the day, by highly efficient LED spotlights, recessed in the false ceiling or suspended on stretched metal wires. The layout is pleasant and discreet, modern and very design.
The dining area is vast and can easily accommodate a dozen or more guests. It is served by a magnificent American-style kitchen, very clean and modern, fully equipped and of high quality.

Beyond, a pretty living room welcomes large and comfortable seating, facing the hearth of a very beautiful and functional stone fireplace. These two living and reception areas are separated by a glass and metal staircase, very uncluttered, which cannot obstruct the view and the light.
A corridor leads to a wonderful master suite of approx. 14 m² with a private shower room with jet shower and a beautifully designed dressing room. An adjoining 15.05 m² office with an independent entrance can also be used as an extra bedroom to accommodate other members of the family, friends or visitors passing through. It can also be converted into a library, boudoir, sport/fitness room, games room, video projection room with home cinema or in any other place for any other purpose, according to the wishes of the occupants.
However, one or more rooms on the ground floor are always a plus in a house when it comes to receiving people of a certain age or with reduced mobility.
Finally, a toilet is a judicious addition to this level.

Upstairs, a landing leads on one side to a superb 23.85 m² suite, which benefits from its own shower room. On the other side, a corridor of about ten meters, serves three bedrooms, respectively of 15.05 m², 10.5 m² and 10.32 m².
A large adjoining bathroom with shower and bathtub benefits these bedrooms.
The accommodation capacities of this residence are impressive and do not stop there.


This manor house has a second building, perpendicular to the first, between which the famous Santiago de Compostela bell is housed, which seems to unite them by one of the sections of their respective ends. This other place of accommodation now bears a name favourable to the use that is sometimes made of it: 'La Maison des jockeys' (The house of the jockeys).

The designation is all the more appropriate for an equestrian centre worthy of the name.
Here again, the place could become a large gîte for another category of occupants and a source of additional income, or a home for older children, family, friends...
It is equipped with a living room of 21,06 m² and fitted kitchen, a large room of 24,91 m² and a bathroom of 6,6 m². A wc completes this level.
Two other bedrooms of 15.2 m² and 11.47 m² are located on the first floor.
And in case the number of rooms dedicated to accommodation is not sufficient, the attic adjoining one of these rooms can be converted or become a possible storage area.
However, the partition wall between the bedroom and these attics could be knocked down to make a brand new, more spacious room.

The considerable potential of this impressive mansion still does not stop there.

A third house, adjoining the previous one, comprises a 25.84 m² garden level and attic space that could also be converted.
With a little renovation work and a few conversions, it could be used as a reception office for the riding school or as functional accommodation for a care-taker or any other service personnel.

If the space intended for housing proves to be considerable, that of the outbuildings attached in particular to the stud farm is no less so.

Thus, a first outbuilding, 24 m², serves both as a workshop and a garage for two vehicles, without mentioning the important place offered by the outside. It also includes two boxes of 8.36 m² each.
A second outbuilding, comprising nine other boxes, could possibly accommodate the personal and private equine livestock of the owners and family members. However, with little fitting-out works, this building can also be converted into an indoor swimming pool, for example, or into a sports/fitness or dance hall, a video projection room or showroom, a large reception hall, a small horse museum... The potential is real and the ideas are not missing.
On this estate, there is no lack of space for either men or horses. A huge stable, one of the most functional and best-equipped, contains the last forty boxes. It is completed by a beautiful 1,200-metre sand track, a six-seater electric walker, a large fodder shed, grain silos and many paddocks that are spread over a large part of the fifteen hectares of land that the property occupies.
This equestrian centre is ideal for those who want to exercise a profession related to horses or simply for those who have a passion for them.

The land of about fifteen hectares is as impressive as the manor house and the entire estate.
It is enclosed and largely planted with trees or consists of many fenced meadows for grazing horses.
A very large natural lake full of fish, the surroundings of which are populated and frequented by a variety of birds and animals, is a quiet and picturesque spot where you can picnic with your family or go fishing or daydreaming in seclusion.


The potential of this great equestrian centre is outstanding. The innumerable assets of this domain are beyond comprehension.
The structure is in excellent condition.
The manor house was carefully renovated in 2011.
The outbuildings relating to the stud farm and the equipment are functional and in good condition.
The grounds are maintained, with no areas left abandoned or unmanaged. Its maintenance is fairly easy and does not require too much time. Horses play an important role in mowing and clearing the grasslands.

Aerothermal heating, using air/water heat pumps, is the most economical and environmentally friendly.
It is diffused through the ground over the entire garden level of the main house and via water radiators, with individual thermostats, in all the other rooms upstairs and in those of the second dwelling house.
The insulation of the building and the frames is well insulated (double glazing on doors, French doors and windows).
The energy performances are exemplary, especially for an old building: DPE (Class C) GES (Class A)


Ideally located in the calm and the open air, only 15 km from Saint-Brieuc, its TGV station and equidistant from the most beautiful beaches of the Cotes-d'Armor coast, Binic and Pléneuf-Val-André, this exceptional equestrian estate is a sure and a perennial value which has a price only to be attributed to extremely rare gems.

------
Information about risks to which this property is exposed is available on the Géorisques website : https://www.georisques.gouv.fr

Price
745 000 € (HAI)
agency fees to be paid by seller
This property has ...
Garage
Barns / outbuildings
Private parking
Character property
Detached
Double glazing
Guest house / gite
High speed internet
Suitable for horses
Business potential
Lake
Property Type
Holiday Home
Bed and Breakfast
Location
0-2KM to amenities
50km or less to ferry
Town property
Village property
COTES D ARMOR(22)
Brittany
Diagnostic de Performance Energétique

réalisé après le 1er juillet 2021
3
Logement moyennement performant
Coûts annuels énergies estimés
entre
1430 €
et
1960 €
pour
2021