Château - Lanzac
(46200) - LOT
€ 1,260,000 (HAI)
Réf : 113059NBO46
1000 m2 habitable
25 rooms
15 bedrooms
4 bathrooms
5.01 ha land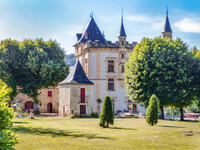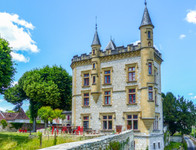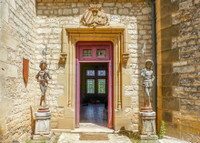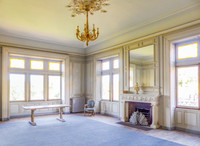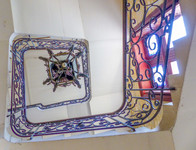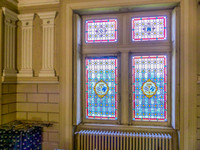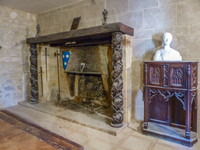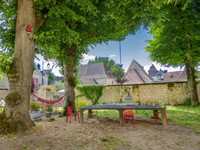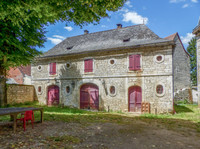 Elegant 19th century castle overlooking the Dordogne. Panoramic view of the river and the valley. 5ha grounds.
This very pretty neo-gothic style castle was rebuilt at the end of the 19th century by Admiral de Marqueyssac on a rocky outcrop, overlooking the Dordogne river. Very elegant, the foundations of the castle were probably built during the 16th century and traces of a much older building have been identified in the 5 ha park.

It has started to be renovated with great care and ingenuity (structural work, roof, electricity, new plumbing and heating, rainwater drainage), while preserving architectural elements. You still have to personalise the 12 bedrooms, lounges and reception rooms to turn them into beautiful living spaces. Overlooking the Dordogne, you will enjoy the valley from the roof terrace.


Request for more information
Réf : 113059NBO46
Voir l'annonce en Français
Detailed description
This is a real castle, of the kind you dream about. A beautifully chiseled 19th century gate marks the entrance to the property and the main courtyard. A large entrance hall leads to 4 reception rooms, a staircase in the main tower leads to the upper floors, and to a undergroound floor with a real cantou, a beautiful vaulted stone cellar; you'll enjoy the delicat towers that stand at the corners of the chateau.

Built over several periods, the chateau is composed of 4 floors.

- The basement, medieval style, made of stone, with beams and a floor redone in natural stone is almost 200 m2. You will find a kitchen, a dining room and a huge cantou.

- The ground floor : a large entrance hall with a very high ceiling; mouldings, cement tiles, stained glass windows. The hall leads to several lounges, currently being renovated. Here again, mouldings, fireplaces, large windows with wooden floors.

- The two upstair floors have 12 bedrooms, suites and lounges organised along corridors. One can easily imagine these very cosy and functional floors in the last century. These floors are currently being renovated: bathroom spaces are being created, electricity is already renovated, it's up to you to bring these rooms back to life.

- Take the stairs of one of the tower to access the roof terrace… and enjoy the panoramic view of the park, the valley, the village, the surrounding hills... A unique and breathtaking view.

CHATEAU - GROUND FLOOR : MORE THAN 230 M2

- Entrance hall: 37 m2
- Large Living Room: 55 m2
- Small living room: 31
- Billiard room: 46 m2
- Bedroom 1 and shower room : 34 m2
- Cellar : 7 m2
- WC : 3 m2
- hall - staircase : 24 m2

CASTLE - BASEMENT : ABOUT 200 M2
- Clearance staircase / technical room: 24 m2
- Cellars : 76 m2
- dining room : 32 m2
- Cantou : 36 m2
- Kitchen: 29 m2

CASTLE - FLOOR 1 : MORE THAN 220 M2
- Stairs - clearance: 24.00 m2
- Corridor and hallway: 31 m2
- small living room : 12 m2
- Bedroom 2 and bathroom: 42 m2
- Bedroom 3: 19 m2
- Bedroom 4 and vestibule: 38 m2
- Bedroom 5: 22 m2
- Bedroom 6 and shower room: 30 m2
... as well as many spaces to be defined

CASTLE - FLOOR 1 : MORE THAN 220 M2
- Stairs - clearance: 24.00 m2
- Corridor: 32 m2
- Bedroom 7: 37 m2
- Bedroom 9: 18 m2
- Bedroom 10: 36 m2
- Bedroom 11: 22 m2
- Bedroom 12: 25 m2
... as well as many spaces to be defined

OUTBUILDING - PRIVATE HOUSE: surface of about 180 m2

The house overlooks the central courtyard of the property, next to the castle, but you also have a small, more intimate garden at the back of the house. The kitchen areas, shower rooms have been created, the electricity redone; living spaces have yet to be created.

On garden level : about 90 m2
- Garage in RDJ > living room to create : 52 m2
- lean-to and technical room: 30 m2
- staircase clearance: 10 m2

Floor 1: about 90 m2
- kitchen/dining area: 35 m2
- hallway, corridor, hallway : 11 m2
- room 1 : 12 m2
- Bedroom 2: 30 m2
- shower room, WC: 6,5


In total, the castle offers a floor area of more than 800 m². The private house around 190 m2.

The park, abandoned for 15 years, has been partly recreated. Shaded areas have been designed to accommodate the public. A plot of land, at the bottom of the castle, on the banks of the Dordogne, had received a seasonal parking permit. The castle's enclosures and walls have been renovated to meet safety standards.

TECHNICAL INFORMATION

All of the structural work has already been completed: rainwater management required a complete earthwork and drainage around the property, with the creation of a 40 m3 rainwater collection cistern. The property benefits from mains drainage. The electricity and plumbing are new and the chateau benefits from granulated central heating, the roof has been revised: this property now has an extremely healthy, solid foundation, and all that remains is the pleasant part of the decoration and layout to be designed.

This property is a real "coup de coeur" because of the view, the intimacy that emanates from the chateau, the layout and amenities of the rooms.

Perfectly located in a small village near Souillac (railway station, exit A20, all commodities), on the edge of the most beautiful sites of the Dordogne valley and the Quercy causses... An idyllic place to make your family's or your guests' dreams come true.

The castle is easily accessible.
- Brive with international airport 23 km
- Access to the A20 motorway: 3 km
- Souillac with all amenities and train station 2 km away
- Les Eyzies, vallée de l'Homme : 50 km
- Rocamadour and Gouffre de Padirac : 25 km

With its more than 800 m2, this château will be perfect for a luxury hotel or bed and breakfast project, hosting events, weddings or other receptions. The private house, on the estate, is ideal to welcome your family or employees.

More pictures and videos for a virtual tour on demand ;
I can also provide videos and documents about technical work that have been done

------
Information about risks to which this property is exposed is available on the Géorisques website : https://www.georisques.gouv.fr

Price
1 260 000 € (HAI)
5 % agency fees to be paid by buyer (1 200 000 € without fees)
This property has ...
Mains Drains
Barns / outbuildings
Private parking
Woodburner(s)
Character property
Detached
Riverside
Guest house / gite
Business potential
Property Type
Location
0-2KM to amenities
Hamlet property
50km or less to airport
LOT(46)
Midi Pyrenees