Château - Jouars-Pontchartrain
(78760) - YVELINES
€ 2,400,000
Réf : 124174AMU78I
293 m2 habitable
5 rooms
3 bedrooms
2 bathrooms
0 m2 land
Virtual Tour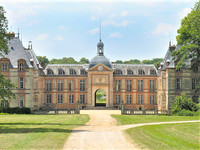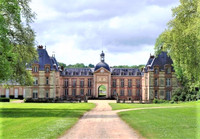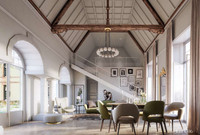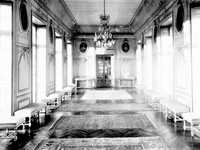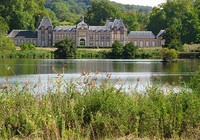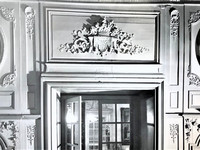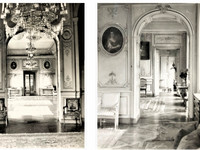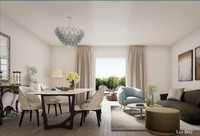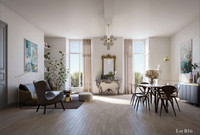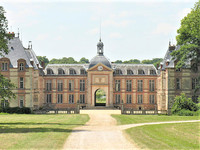 78760, 30 minutes from Paris, CLASSIFIED MH PATRIMONIAL UNIT, top-of-the-range 5/6-room apartment of 293.15 m2, in the heart of a listed 16th century Historic Monument, renovated according to the rules of Art and ready to move in summer 2023, offering a prestigious living environment, surrounded by gardens designed by Le Nôtre, within a walled park of 90 ha, also listed. Parking. Advantageous taxation for investors in love with France History
78760 YVELINES – Jouars-Pontchartrain - 2/3 Bedroom – 293.15m2 – See Floor plan online – Movie set for Sofia Coppola's 2006 film Marie-Antoinette, this majestic castle, quintessence of French heritage, witness of the Great Century, located in a green setting bordered by forests at the gates of Paris (30 min away), will be now restored to its former glory and splendour. And this is an unexpected opportunity to register your name in the inventory of this magnificent heritage and its fabulous history… by purchasing this top-of-the-range T5 type apartment (2/3 bedrooms) framed by large bay windows and overlooking the gardens of the castle, resolutely optimized and ready to move in in summer 2023. Offering 293.15m2 of private space, this property located on the garden level is the only one entirely classified HM. Preserving all the glory of times gone by, quiet with an imperial living space, it offers all the comfort of an ultra-modern residence including home automation and 4 parking spaces. Keeping the royal volumes, the entrance opens onto a trefoil garnished lounge of 58.64 m2 which continues with an impressive gallery of 93.04 m2 which can be fitted out as a lounge/concert room/home cinema or contemporary style open kitchen onto dining / living room, impressive spaces restored in the rules of Arts, bathed in light through large French windows, benefiting from an ideal triple South-East-West exposure and breathtaking views over the former hunting estate of Louis 1st of Phélypeaux. The residence continues with a majestic living room of 78m2, a double exposed master bedroom of 23m2 with dressing room, en-suite independent toilet and shower room, and, finally, a guest bedroom with an en-suite modern shower room and an independent toilet with suspended toilets. 4 private car parks, outdoor garden, electric vehicles such as golf carts with recharging stations, video surveillance system has just been added to this unique concept, which also offers friendly barbecue areas, a fitness trail, beehives in partnership with a local beekeeper, and a fruit and vegetable delivery service on site.

In addition to some economic advantages, while preserving natural resources, this prestigious acquisition offers true peace of mind whether for... a change of main residence, a peaceful retirement with the space to accommodate the family, a home for a professional activity, an exceptional pied-a-terre or simply an investment (Historical Monument Law - 100% tax exemption on the works which represent 54% of the property's commercial price ) and all the benefits summarized below .

Ideally nestled away from the hustle and bustle of the city, in a prestigious atmosphere in the middle of its 90 hectare old park with its numerous tree-lined paths perfect for bucolic walks and the lake, the residence benefits from a unique architecture offering a feeling of space and openness, nourished by its large floor-to-ceiling windows on the garden side generously illuminating the living spaces. An aristocratic place with an intimate feel as a prestigious residence that blends harmoniously into its environment, with refined interiors benefiting from acoustic comfort and reduced energy loss for maximum thermal optimization (RT2012).

An unexpected chance of acquiring part of French history and living in it or let out as only four or five aristocratic families have succeeded one another in this French Castle dating back from 1610 - former residence of Boeswillwald, the Secretary of State of Henry IV - to the present day. The Château de Pontchartrain is a place that bears witness to four centuries of the Great History of France. Bordered by forests, this noble 16th century castle, the quintessence of French heritage, is just 10 minutes on walking distance from the lively centre and shops and 20 minutes from La Défense or 30 minutes from Châtelet-les-Halles by train (RER A), 10 km from the business area of the Grand saint-Quentin-en-Yvelines, in the commune of Jouars-Pontchartrain, and 30 min from the Paris-Orly airport. Acquisition under Historic Monuments law and its advantages.
Request for more information
Réf : 124174AMU78I
Voir l'annonce en Français
Detailed description
Need to know : The purchase of this apartment sold off plan comes with economic benefits including reduced 2.7% conveyance fees (compared to 7.7% for old properties), modern sound insulation and high-energy efficiency norms (Thermal Regulation [RT] 2012 and Paris Climate Plan) in compliance with the Eco-Label housing quality standards (NF). You also benefit from the exemption of property tax for the first 2 years, a delivery guarantee ensuring the completion of all new buildings, a 10-year construction guarantee, a 2-year guarantee on equipment (radiators, doors... etc.) and finally a perfect construction guarantee covering minor damage that may appear during the first year. These elements ensure comfort and lasting peace of mind while away, there are no major renovations or upgrade work to be undertaken in the residence... In short, an easy to manage property.

This Jouars Pontchartrain property offers all the modern lifestyle essentials, contributing to its enjoyment including: large bay windows with outside space for bright interiors, intelligent House with home automation (control of light, temperature, blinds, videophone, etc.), ease of management and maintenance, peacefulness due to its acoustic screed and quality double glazing, property fittings to personalise, bathroom with suspended vanity all combining quality and design, enhanced security with access protected by videophone, digital entry code system & electronic badges, controlled monthly charges of about 3 €/m2/month including water and maintenance of common areas, high speed fibre optic internet, greener surroundings with landscaped gardens, bicycle storage room, private parking space. The existing floors of heritage character will be preserved and restored as far as possible, the other floors will be of solid parquet type, painted wood moulded skirting boards, equipped kitchens for the T2 units, with a Silestone natural quartz worktop, cupboards with sliding doors, fireplaces and mantelpieces preserved and restored, production of domestic hot water provided by an electric storage tank (2 rooms : 150 Liters ht 120 cm - 3 rooms : 200 Litres ht 150 cm - 4 rooms: 250 Litres ht 160 cm ), suspended WC and basin, individual electric heating, heat emission devices, towel dryer panels in the bathrooms and shower rooms, outdoor garden, electric vehicles such as "golf carts" with recharging stations available, video surveillance system to secure the car parks and main accesses; a unique concept: convivial barbecue areas, a fitness trail, beehives in partnership with a beekeeper, a fruit and vegetable delivery service on site.

Built over 2 floors on the ground floor, this majestic castle will be rehabilitated under the control and supervision of the DRAC and the architects of Bâtiments de France. It is located in the hamlet of Pontchartrain in the commune of Jouars-Pontchartrain and comprises 41 apartments with parking. The residence is built on a 5530 m2 plot of land located at walking distance from the bus stop, schools and colleges 10 min - Shops and market 5 min. Other distances (by car) - Tennis and golf 7 min - 25 min from Porte de Saint-Cloud - 30 min from Paris-Orly airport - 5 min from Saint-Quentin-en-Yvelines - Connected to Montparnasse in 30 min by line N - Connected to Lille in 2h10 by TGV By car: La Défense at 34 min - Saint Lazare train station at 48 min - Châtelet-les-Halles in 60 min - Louvre Museum at 55 min - Eiffel Tower at 45 min - Pontchartrain train station at 7 min - La Défense at 34 min - Arc de Triomphe at 43 min

Area details: Total area 293.15m2 = 8.187 euros/m2 ; S-E-O ; Ref(s): Apartment No A07 + 4 parking places (Value: 46.000€); Furnished rental potential of about 4500 €/month or ideal for flat share (3 bedrooms possible) for an increased yield of +17 to 25%. Purchase under Historic Monument scheme offering a 100% tax exemption on the works (54% of the commercial price).

Built by Boeswillwald, former property of the Secretary of State of Henri IV, residence of the kings of France before Versailles, this majestic castle, quintessence of the French heritage, witness of the Great Century, located in a green setting bordered by forests at the gates of Paris, rehabilitated to restore it to its former nobility and splendor. A rehabilitation under the control and supervising of the Regional Department of Cultural Affairs (DRAC) and the architects of the Bâtiments de France. The castle of Pontchartrain has been classified as a Historic Monument since 14 December 1979, which gives it a special dimension in the French heritage landscape. Its entrance gate, its facades and roofs, its large gallery, its living room with a trefoil plan with its decoration in the lower left wing and its pavilion, its former park are among the protected elements that will be restored in the rules of Art. A natural and historical living environment that will make each awakening a wonder throughout the seasons. A true witness of the Grand Siècle, this castle, the quintessential heritage of classical style, surrounded by gardens designed by Le Nôtre, will be reborn with the creation of 41 apartments of character, all unique, while remaining close to the Parisian employment areas and the West of the capital.
Jouars-Pontchartrain is a municipality located in the department of Yvelines, in the Ile-de-France region, consisting of several hamlets, half residential, half rural, yet benefiting from a wide range of local shops. The area has been inhabited since ancient times. Jouars "le bourg divin", the name of the Gallo-Roman city, on the banks of the Mauldre river. Pontchartrain, an ancient locality corresponding to a bridge over the Mauldre on the road that in antiquity and the Middle Ages linked Paris to Chartres - an important episcopal city at the time -, the "land of the Carnutes", a Gallic ethnic group that occupied the region. A territorial boundary between the Carnutes and other Gallic tribes: Pontchartrain at Jouars thus marked the border between the Carnutes and the Parisii. The town is located 35 km west of Paris, 18 km west of Versailles and 22 km from Rambouillet. The town's great strength is the employment area in the immediate vicinity of Saint-Quentin en Yvelines/Paris-Saclay, which is the 3rd largest recruitment centre in the IDF and the 5th largest in France, with more than 35,000 job forecasts. These figures are the result of the presence of 17,000 companies on its territory, including many innovative SMEs and major world-leading groups such as Renault-Nissan, Airbus Defense and Space, Thalès, Bouygues, Decaux, Atos, Egis, Zodiac Aerospace, Malakoff Médéric...

A true specialist, our independent "Off Plan" department masters the sale of French new properties as main residence, second home or investment and works directly with all the major French builders/developers in the country. We have access to all the new real estate market... AT PROPERTY DEVELOPERS PRICES. The images presented are of an ambient nature and do not constitute a commercial commitment.
Price
2 400 000 € (HAI)
agency fees to be paid by seller
This property has ...
Private parking
Woodburner(s)
Character property
Double glazing
High speed internet
Business potential
Lake
Property Type
Holiday Home
Country House
Location
YVELINES(78)
Paris Isle of France