House - Pierrerue
(4300) - ALPES DE HAUTES PROVENCE
€ 1,075,000
Réf : A14276
280 m2 habitable
12 rooms
9 bedrooms
6 bathrooms
10.7 ha land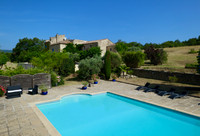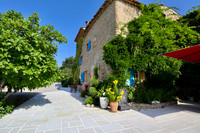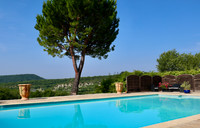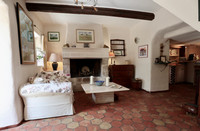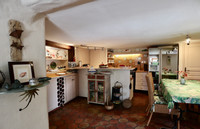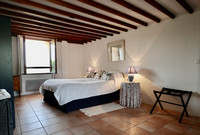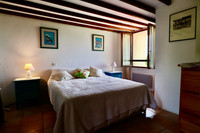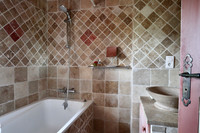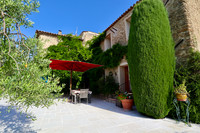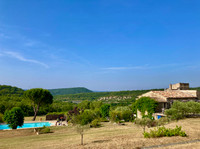 Magnificent ancient silk farm with 9 bedrooms (280 m2) on 107.000 m2. Large swimming pool.
In past times a silk farm - today a true Provence dream! If you are looking for peace, seclusion and endless space with sensational views, you will love this property on more than 10ha of land. A renovated and extended stone house in typical Provence style with its 280sqm allows for all individual living and design possibilities. Be it for a business such as a guest house (8 bedrooms and 6 bathrooms), or for a multi-generational family project, as the property can be divided into 3 residential units, or subletting, as the completely independent flat alone has more than 120sqm. Or you'd simply keep it for yourself with plenty of space for visiting family and friends or for staff. Have you seen the pictures of the vast swimming pool (14 m x 7 m)? A dream comes true! This vast property would also be ideal for setting up a horse farm. The only thing that you will miss on this huge terrain with its age-old, charming walls are large living spaces, hectic city life and close-by neighbours ….
Request for more information
Réf : A14276
Voir l'annonce en Français
Detailed description
You're about to think about an investment of more than a million EUR. It's absolutely worthwhile to continue reading.

The lot of land surrounding this property is more than 100.000 sqm of meadows, trees and even woods, especially on the hills around this house. The views from any of the multiple terraces or from the pool area (14 m x 7 m) are spectacular, to say the least. The total absence of noise is unheard of. This sure is a tranquile and distant place. The next few villages, such as Pierrerue and Sigonce, take 10 to 12 minutes to get to. The famous artists' village Forcalquier is at 15 minutes. By car or motorcycle. Not by bike. So think about being on your own, with yourself, your family and friends and with your animals. Neighbors are not in sight .....

This beautiful old stone house, which used to be a silk farm, was completely renovated by the current owners, with great style and high quality materials. It is a house which is quite complicated to understand, because it basically consists of two completely independent independent parts; one of which can be split up in two again, if need be.

The (current) owner's part consists of a small, but very cozy living room with a grand chimney and an open kitchen in beautiful Italian style. Upstairs you'll find your way into the southern part and the northern part, both of which have multiple bed rooms, a total of three shower rooms / bathrooms. And you'll find a bureau and a technics room.

The (current) gite part is very large, at least 120 if not 130 sqm, with on the ground floor a large living room, a large dining room and a comparably small kitchen. Upstairs you'd find a total of 4 bedrooms, one of which is a "chambre traversante", 3 bath rooms / shower rooms and at least one door to the ample northern terrace, which is on the ground floor there again as the building is placed on a small slope. So the northern side of the house is one level higher than the southern side ....

Underneath the northern terrace, there is a spacious garage / atelier of approximately 120 sqm.. The garage opening is towards the East, also on ground level.

Ou there in the meadows is a barn of 15 sqm. Ideal for one or two horses, whose home it was before the current owners placed their sit-on lawnmower there ....

It is a beautiful spot. A quiet spot. A distant spot. A spot to deeply fall in love with.

Main house:
Living room with open kitchen: 40 sqm
Bedrooms: 12 + 14 + 15 + 17 sqm
bathroom: 4 sqm
Shower room : 5 sqm
Technical room: 17 sqm

Appartement / gîte:
Kitchen : 10 sqm
Dining room: 20 sqm
Living room: 20 sqm
Bedrooms: 10 + 12 + 16 + 25 sqm
shower rooms: 4 +4 sqm
bathroom: 12 sqm
Price
1 075 000 € (HAI)
agency fees to be paid by seller
This property has ...
Electricity on site
Garage
Barns / outbuildings
Private parking
Character property
Detached
Mountain view
Double glazing
Guest house / gite
Suitable for horses
Swimming Pool
Business potential
Water on site
Property Type
Location
Hamlet property
Isolated
Close to golf course
Village property
ALPES DE HAUTES PROVENCE(04)
Provence Cote d Azur