House - Herblay-sur-Seine
(95220) - VAL D OISE
€ 1,698,000
€ 1,639,000
Réf : A15777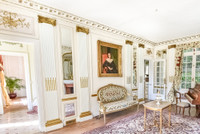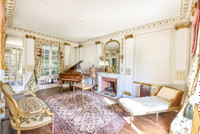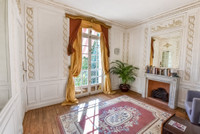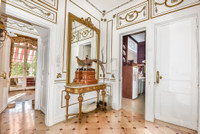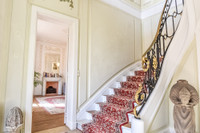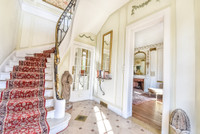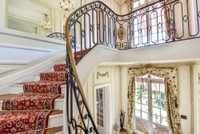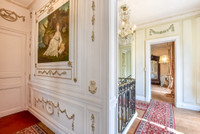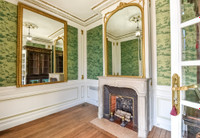 Magnificent secluded house 250m², 22 mins de Paris + Seine view, VIDEO + ALBUM
95220 HERBLAY - Rare and exceptional detached villa built in 1907 on a 1,739 m² plot of land in the hills of Herblay sur Seine. It is equipped with a living room, with a fitted separate kitchen, with a balcony, with a terrace and with a parking lot. 10 rooms (6 bedrooms) - 250 m² with several terraces. - ECD labels: E / E.

ROOF: - very well maintained, the ridge and two finials in zinc were replaced in 2019. The roof is covered with Canadian red slates fixed with copper nails, materials known for their longevity.

Offering 4 floors it has been well restored and maintained.

Ground floor: - Entrance hall, library, 3 cellars, boiler room, oil cellar,

Ground floor: - Entrance hall, neo-palladian style living room, dining room, kitchen, hallway leading to large terrace and WC.

1st floor:- Office, possible bedroom, master bedroom with shower room plus separate shower room, dressing room and separate WC.

2nd floor:- 4 Bedrooms, Bathroom with WC, Corridor.

Request for more information
Réf : A15777
Voir l'annonce en Français
Detailed description
This half-timbered villa, known as "bocage" or "seaside" evoking holidays was built in 1907 on the heights of Herblay sur Seine, this rare and exceptional house has a floor area of 250m² with 1,739 m² of land. Tucked away from the road it is very quiet, south facing and it is not overlooked. It is located 20km from Paris on the right bank of the Seine in the department of the Val d'Oise. Herblay is easily accessible by train from the St Lazare station (22mins) and by road (A 85). The area offers a very pleasant living environment with walks along the banks of the Seine, and numerous footpaths that cross large wooded areas close by making it ideal for long walks and sporting activities. With the local shops in the heart of the town and a 12th century Gothic church, there is no shortage of places of interest and culture.

Cadastral reference of the house: - section BC, number 97, (15a 65ca) Driveway - section BC, number 424, (01a 74 ca).
Part of the land is suitable for building.
This character property has a total floor area of 250.4 m²
(212.4 m² Loi Carrez) and consists of 10 rooms with 6 bedrooms :

GARDEN LEVEL:-
ENTRANCE - (6,3 m²)
PLACARD - (0,7 m²):- For washing machine.
LIBRARY - (11,1 m²)
STAGE LANDING - (5,0 m²)
CLEARANCE - (3.4 m²)
ROOM UNDER STAGE - (2,9 m²)
CAVE 1 - (10,2 m²)
CELLAR 2 - (6,4 m²)
CAVE 3 - (9,25 m²)
BOILER - (6.4 m²)
OIL TANK ROOM - (7,9 m²)

GROUND FLOOR:-
ENTRANCE HALL - (7,44 m²)
LIVING ROOM - (26.30 m²)
DINING ROOM - (15,16 m²)
THE KITCHEN - (9,53 m²)
VESTIBULE - (6,54 m²),
WC - (1,18 m²), STORAGE - (1,04 m²).

1st FLOOR:-
LANDING - (5,94 m²)
BEDROOM 1 - (29.43 m²)
BATHROOM - (7.55 m²)
SHOWER - (2,53 m²)
CIRCULATION - (6,05 m²)
LIVING ROOM - (9,44 m²)
DRESSING ROOM - (6,09 m²)
WC - (1,19 m²)
STAIRS - (0,56 m²)
BALCONY 1 - (1,38 m²)
BALCONY 2 - (1,38 m²)
BALCONY 3 - (1,38 m²)

2nd FLOOR:-
CIRCULATION - (6,94 m²)
BATHROOM / WC - (5,96 m²)
PLACARD - (1,21 m²)
BEDROOM 1 - (10,21 m²)
BEDROOM 2 - (23,16 m²)
BEDROOM 3 - (17,50 m²)
LIVING ROOM - (10,06 m²)

It is in excellent condition with high ceilings.

Please ask for the album for more details on the other floors.

GATE AND MAIN DRIVEWAY.
The cast iron gate is from the Napoleon III period. The gates are remote controlled and open onto the long lime tree lined driveway leading to the residence. There is ample space for several vehicles.

THE GARDEN: - Has an abundance of fruit trees. It is a quiet, secluded landscaped garden with numerous terraces.

Herblay offers a very pleasant living environment with its banks of the Seine suitable for walks and sporting activities. Its large wooded areas are criss-crossed by numerous paths that are shortcuts to the local shops in the town centre and the Roger Barat theatre. It is an ideal place for people with dogs or simply for walkers, cyclists or joggers. For those who wish to venture further afield, there is the ferryboat, which takes you to the other side. Near the state forest of Saint-Germain, Maisons-Laffitte is 5km away. The Gothic church of Saint-Martin d'Herblay, 800m downstream, was built in the 12th century and has five Renaissance windows (1537-1540).

TRANSPORTATION:- only 1.0km from Herblay station which is 22 mins from
Paris Gare St Lazare with 4 Trains/Hr. Sartrouville RER A at 7km. La Défense at 18 km and Charles de Gaulle airport at 45 km.
SHOPS :- Monoprix Herblay 1.1km with a Monoprix, pharmacies and several banks.
RESTAURANTS :- La Maison du Passeur 750m, Portobello 1.2km
SCHOOLS :- Collège Montessori Int. 5.6km, École Louis Pergaud 800m
PLACES OF INTEREST :- Carrières de Gaillon 3.0km, Château de Maisons-Laffitte 5.5km, Hippodrome de Maisons-Laffitte 4.6km
SPORT :- Maisons-Laffitte golf course 4.5km, Club équestre du Parisis 3.0km,
Water sports La Frette 1.0km, Tennis Club La Frette 1.1km, Les Grands Bains du Parisis 3.1km, Boat ramp 850m, The property has mooring rights


------
Information about risks to which this property is exposed is available on the Géorisques website : https://www.georisques.gouv.fr

Price
1 639 000 € (HAI)
agency fees to be paid by seller
This property has ...
Mains Drains
Electricity on site
Private parking
Character property
Detached
Riverside
Water on site
Property Type
Location
0-2KM to amenities
50km or less to airport
Town property
Close to golf course
Resort property
VAL D OISE(95)
Paris Isle of France